We understand that every home and every solution will be different. From our initial visit to your home or office, we discuss your goals and work with you. We design and then manufacture and install your system to match your schedule, your wishes, and your desired result. From the very first time you contact us, we place our quality and expertise at your service and deliver a custom design to suit your needs.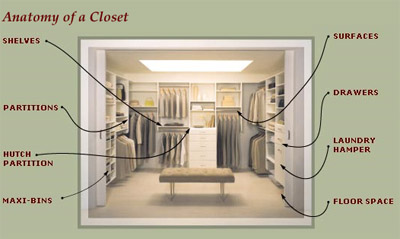 SHELVES
All shelves are adjustable. 14"open shelving depth to house folded clothes and heavier items. Bonus shelf space in center of double-hanging section.
PARTITIONS
3/4" partitions divide and compartmentalize all of your belongings.
HUTCH PARTITION
Provides vanity top and deep drawer capacity within the drawer unit.
MAXI-BINS
Provide roomy compartments to organize and protect shoes and other wardrobe items.
SURFACES
Variety of pole and surface finishes to suit your taste and complement existing interiors.
DRAWERS
Drawer options include full-extension and ball bearing runners.
LAUNDRY HAMPER
Removable laundry hamper is concealed behind a finished drawer face.
FLOOR SPACE
Everything off the floor; dust-free, easy to vacuum.